Premiere: "Les Troyens" at Deutsche Oper Berlin
On 5 December 2010, Deutsche Oper Berlin (German Opera, Berlin, one of the three operas in Berlin) premiers Hector Berlioz's opera Les Troyens (The Trojans). It was as recently as 1969 that this double opera (created 1856-1858) was shown in its full length of some five hours for the first time. The impressive work addresses the horrors of war: Troy perishes, the survivors fight in Carthage against an attacker, and this continued to be a never-ending story even after Aeneas and Carthage's queen Dido have fallen in love with each other: decisions and fate tear them apart again; at the end, death remains.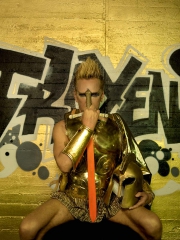 There will always be a contemporary reference in a work that deals with war. Director David Pountney, born in 1947 in Oxford, will fortunately refrain from all those references that would be just too obvious: "I can assure you you won't be seeing the War in Iraq on my stage. That would be to serve up the mother of all clichés. That's not to say, however, that political considerations do not have their place in the production. The self-destructive procession that accompanies the dragging of the Trojan horse into the city, the droning of the national anthem, the senseless patriotism… it's amazing the way Hector Berlioz presents the entire state apparatus for us to behold."
For a long time, this formidable work by Hector Berlioz (1803-1869) deemed unperformable, not the least due to its sheer length that will even impress die-hard Wagnerians. Deutsche Oper Berlin dares to show a not only visually stunning realisation by this creative director for which we are looking forward.
Tickets for 36-120 €
Kindly supported by Förderkreis der Deutschen Oper Berlin e. V. (Patrons and Friends)
Conductor: Donald Runnicles
Director: David Pountney
Stage Design: Johan Engels
Costume Design: Marie-Jeanne Lecca
Chorus Master: William Spaulding
Light Design: Davy Cunningham
Choreographer: Renato Zanella
With Ian Storey, Markus Brück, Reinhard Hagen, Petra Lang/Anna Caterina Antonacci, Béatrice Uria-Monzon/Daniela Barcellona and many others
Chorus, orchestra and opera ballett of Deutsche Oper Berlin
Premiere: 5 December 2010
Further performances: 11, 16, 19 December 2010; 6, 11, 20 March 2011
10627 Berlin
Germany
Share on Facebook