Did you ever wanted to have something really special? The time is long gone to impress somebody with a simple yacht. Maybe this offer could be interesting then: since 28 November 2010, the United Kingdom is selling its aircraft carrier HMS Invincible by auction. In service since 1980, the ship lived up to its name by staying undefeated and is now awaiting the cutting torch, as it will be sold as scrap only.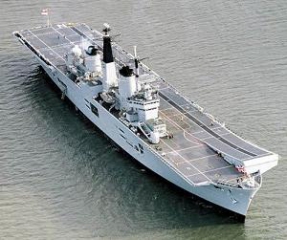 Better times: HMS Invincible on voyage
The former flagship of the British Royal Navy had five predecessors bearing its name. Most notably – being the first of the three Invincible class ships – it was the first carrier designed for vertical take-off planes (VTOL). Thus, it did neither have a catapult nor arrestor cables like most other carriers, but a jump ramp (or velocity-head).
Still on trial in 1982, she participated in the Falklands War against Argentina with her 18 Harrier combat jets without losing one. Between 1993 and 1999, HMS Invincible was stationed regularly in the Adriatic Sea and attended the Kosovo War, too.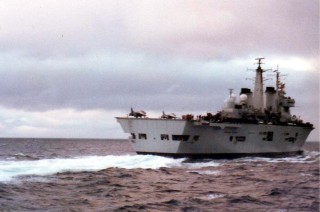 After plans to sell the ship to the Indian Navy failed in 2004, it was decommissioned on 3 August 2005 in Portsmouth. This decision was criticised not the least because the succeeding Queen Elizabeth class will need quite more time until its commission.
After not only the engines had been removed, only some 17,000 tons from at last 22,000 tons remained, of which some 10,000 tons of metal will be most interesting for the possible buyer: 95% of it is mild steel.
Until 10 December 2010, interested buyers can visit the ship; offers have to be handed in until 5 January 2011 at 1000h.