On the occasion of the 66th anniversary of the liberation of the Auschwitz Concentration Camp on 27. January 2011, Freundeskreis Willy-Brandt-Haus e.V.,  Institut Français Berlin and Gegen Vergessen – Für Demokratie e.V. present the documentary "Remembering the Children" (La Mémoire des Enfants) by Hannes Gellner and Thomas Draschan, made in 2007. The film deals with the fate of Jewish children under the Vichy regime. The film attemps to fathom how it was possible (in human, legal, and administrative terms) that between 1942 and 1944 more than 11,400 Jewish children were deported from France to Auschwitz on the initiative of the French authorities.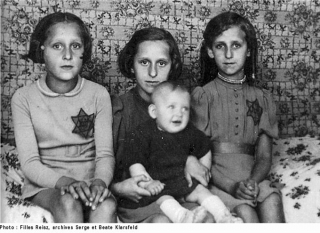 Rather than simply recording the numbers of victims, it precisely documents concrete destinies. The film describes the historical course of events and context in calm, clear, comprehensible images intented to support memory.
Jérôme Segal from the Jewish Film Festival Vienna wrote: "These children had easily integrated themselves into French society before being deported and murdered by thousands. The power of the film by Hannes Gellner and Thomas Draschan lies in making this breaking point tangible : stigmatization via Star of David, arrest, detention in the French camps – Drancy, Gurs, Pithiviers und Rivesaltes – and then deportation to Auschwitz."
After a welcoming address by the Artistic Director Gisela Kayser, Director Hannes Gellner (born in 1969) will speak, followed by the film screening of "Remembering the Children" (Austria/France 2007, 74 minutes, German language).
Remembering the Children (La Mémoire des Enfants)
An evening to remember the liberation of KZ Auschwitz 66 years ago
Th, 27 January 2011, 1930h
Willy-Brandt-Haus
Stresemannstraße 28
10963 Berlin
Germany
Admission free – please bring your ID card!