Gerhard Richter: Images of an Era
With the exhibition "Images of an Era" (5 February – 15 May 2011), Bucerius Kunst Forum in Hamburg presents a detailed view into Gerhard Richter's works of the 1960s and 1970s. In February 1961, Richter fled from Eastern Germany to the West. He depicted his "new world" in large-sized pictures, often based on photos. Gerhard Richter, born in 1932 and today one of the world's most recognised contemporary artists, has consistently addressed the Nazi period in Germany, but also war and technology. His work "XL 513" from 1964 expresses tremendous dynamics and power.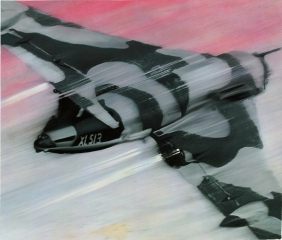 According to the press statement:
Gerhard Richter's paintings from the 1960s are inexplicably disturbing. They show a single moment in time – but one that remains enigmatic. These moments appear to be snapshots taken at random; however they were frequently inspired by sensational photo documentaries about impostors, poisoners or shipwrecks. Richter also picked up on the ideals of this period based on the happiness promised by Germany's economic miracle in the 1960s as reflected in advertisements and in magazines: fast cars, exotic travel destinations and glamorous film stars.
In his works based on photos, Richter isolated motifs from photo spreads in magazines like "Stern" and "Quick" and enlarged them to painting size. From these magazine photos, which had an enormous impact in that period of few television and other images, Richter created paintings of an entire era. Like Warhol and Lichtenstein, he also showed trivial everyday objects. He freed painting of its traditional standards. Gerhard Richter's work appears as a rebirth of painting out of the spirit of Pop Art and Fluxus. Its aim is to exact a dimension of memory from specific period elements.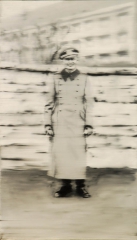 Curated by Uwe M. Schneede, this exhibition brings together 50 loans from 25 German and international collections including the cycle  "October 18th, 1977" from the Museum of Modern Art in New York, which recalls the traumatic events of the "German Autumn" in late 1977, where several kidnappings and hijackings by terrorist groups (Red Army Faction (RAF),  Popular Front for the Liberation of Palestine (PFLP)) occurred.[1. The "German Autumn" climaxed on 18 October 1977 with the liberation of the airliner "Landshut" in Mogadishu, the murder of kidnapped industrialist Hanns-Martin Schleyer, and the suicide of several imprisoned RAF terrorists.)
Parallel to this exhibition at Bucerius Kunst Forum, Hamburger Kunsthalle is showing the exhibition "Out of focus. After Gerhard Richter" from 11 February to 22 May 2011.
Gerhard Richter. Images of an Era
5 February – 15 May 2011
Fr-We 1100-1900h, Th 1100-2100h
Admission 8 €, concessions 5 €
Free admission for children and youth under 18 years
Bucerius Kunst Forum
Rathausmarkt 2
20095 Hamburg
Germany
Share on Facebook