Opening: SHOOT! Photography existential (C/O Berlin)
From 5 February until 27 March 2011, the photo gallery C/O Berlin – its future still being imperiled, as the investor who bought the premises did not stick to its own agreement – presents the exhibition "SHOOT! Photography Existential". It reminds us of a nearly forgotten fun fair attraction, the "photo shot": the shooter "kills" himself by taking a picture of himself – obviously, this virtual self-destruction was quite fascinating.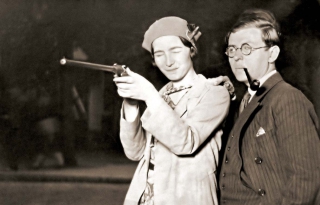 Big fun, not the least for existentialists:
Simone de Beauvoir and Jean-Paul Sarte shooting themselves
According to the press statement:
According to Susan Sontag, the act of taking a photo contains a predatory element that lays one's hands on man: one is seeing the human motif like the person can never see itself. Photographer and viewer learn something about the portrayed that will be kept hidden to the latter – vulnerability, changeableness and mortality. Taking pictures as memento mori transforms man into a fleeting object. In the 'photo shoot', the shooter becomes his or her own object, leading to the own death."
Take aim by yourself! Central to the exhibition is the reconstruction of a real shooting gallery. The visitors can experience, how delightful it is to take a portrait shot of oneself.
The exhibition – expanded by contemporary works on the photographic shot – is a coproduction with the Museum für Photographie Braunschweig and Les Rencontres d'Arles.
SHOOT! Photography existential
5 February until 27 March 2011, daily 1100-2000h
Eintritt 10 €, ermäßigt 5 €
Opening: 4 February 2011, 1900h
C/O Berlin
Oranienburger Straße 35/36
10117 Berlin
Germany
Share on Facebook