On 5 May 2011, Kunstraum Richard Sorge will open the solo show "schlachten" with works by Jens Kloppmann. The exhibits presented address war, perception and commemoration by various ways and different materials. On show from 8 May onwards (and thus parallel to the anniversary of unconditional surrender of German forces in World War II), the exhibition will be supported by special events such as an artist's talk on 26 May, moderated by Martin Bayer (wartist.org).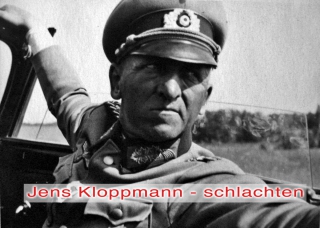 The show's title "schlachten" is ambiguous: it is the German verb for slaughtering, while used as a noun ("Schlachten") it means battles. With "schlachten" being presented on more than 30 m², it is the "largest battle scene of the past years": fretworks of more than 200 silhouettes of famous icons and less known people, their historical meaning being interconnected.
In addition, works of the series "Bullet Boulevard" are shown, moulds of war damages seen at facades in Berlin. Once, these bullet holes shaped this city's image, but now, they vanish increasingly.
Jens Kloppmann addresses historical and political issues by using various materials. His works have been shown at Survival Art Review (Wrocław, Poland), October Salon (Belgrade, Serbia) and Kunsthalle Fridericianum (Kassel).
Jens Kloppmann: schlachten
8 – 28 May 2011
We-Sa 1500-1800 and by appointment
Opening: 5 May 2011, 1900h
Special Viewing: 8 May 2011, 1500-1800h
Artist's Talk: 26 May 2011, 2000h (in German; moderated by Martin Bayer, wartist.org)
Kunstraum Richard Sorge
Landsberger Allee 54, Alte Brauerei
10249 Berlin
Germany