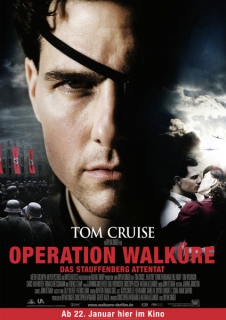 Another excellent German film title (not): The Hitler errr Stauffenberg Assassination.  "Valkyrie" already rocked the media boot a little bit: how could the bloody American dare to picturise a thoroughly German hero's epic like that of the conspirators of 20 July 1944, while there are already quite some German films about it? But there were even more signs of the Occident's doom, as its leading actor is not even a proper Christian! Now, the film premieres in Europe.  
Well, movies tend to be marketed focused on their stars. And if one remembers the German reactions on
Bryan Singer
's
1
movie Valkyrie's shooting, quite many were far less concerned (if at all) with the movie's content, but with the apparently important issue, if a Scientology member such as
Tom Cruise
2
may represent
Colonel Claus Schenk Graf von Stauffenberg
.
Yes, he may, especially, if he does it well. And regardless of his political and other statements, I was so far very rarely disappointed by his performance as an actor.
But this is not my today's subject, but the movie's marketing in Germany. In the USA (where the movie premiered already on December 25th 2008) it is simply called Valkyrie – and thus, translated into the respective national languages, in the other states where it runs.3
Apparently, one cannot made the Germans to put up with that: Valkyrie? Every common German will surely think of Richard Wagner, or at the utmost – if cinematic memories are stimulated – of Apocalypse Now.4 Nah, that is far too much culture.
Well, let's make it "Operation Walküre" (Operation Valkyrie). Much better (allegedly). Such as in the otherwise well-made terrorism thriller The Kingdom whose German title was changed into Operation: Kingdom – but at least it could dodge a crackbrained caption (a big word of thanks to the responsible persons!).
Valkyrie was less lucky: a bit lower, one can read the caption "The Stauffenberg Assassination".
Really? The moron I am, I always thought it had been about assassinating Hitler. Well, that shows how wrong one can be…Seriously: human language always fascinates me due to its flexibility: a leather bag is made of leather (at least it should be); a handbag is…well, hopefully made of leather, too.
But regardless of such linguistic twists and turns, it is more than just regrettable to reduce the attempted coup to a single person, even if it was indeed von Stauffenberg who put the explosives-filled bag under the map table in the "Wolf's Lair"5. For Georg Elser, such a naming might be acceptable, even if it is equally unfortunate due to the reasons above: he was a lone operator.6  But firstly, July 20th 1944 was more than a mere assassination attempt (but a coup) and secondly, von Stauffenberg was – without trying to reduce his role – one of (at least) many brave righteous.
Why of all things this caption seems to be necessary in Germany may only be explained with the known affinity to similar (and similarly unnecessary) captions when it comes to foreign movies. The movie poster above is thus quite fitting. The second version following now is hardly conciliative: like on mediaeval paintings, the hero is depicted larger, with his comrades in mind (and even united with the rather opportunistic Colonel General Friedrich Fromm) the background. But I do not want to chastise the German film distribution too much: the ARD7 talked similar nonsense on the 60th anniversary of the Second World War's end.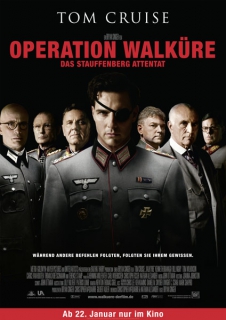 Anyway, on January 20th 2009 is premiere in Berlin; one can expect Bryan Singer, Tom Cruise & Co. at around 7:30 PM in front of the Berlinale-Palast.8 I will talk more about the movies on another occasion.
Further links:
LEMO entry of the German Historical Museum (DHM) on 20 July 1944 (German only)
Foundation 20 July 1944 (German only)
German Resistance Memorial Center
Wikipedia entry on the 20th July 1944 plot
Wikipedia entry on the actual Operation Valkyrie