We are proud to present textile works by Jan Bejšovec on the premises of the both centrally located and well-visited ARD-Hauptstadtstudio on 5 July 2011.1 The solo show "Konfliktstoff Deutschland"2 is a wide selection of the Berlin-based artist's works, including new ones such as the "Reichsstadtpalast"3. The exhibition is curated by Martin Bayer (wartist.org). On the occasion of the opening, ARD correspondent Christian Thiels will moderate an artist's talk.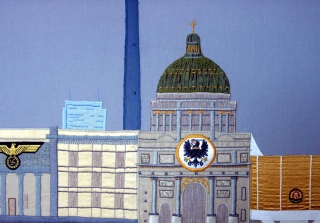 The specialist areas by Christian Thiels (SWR) include foreign and security policy. Between  2003 and 2005, he reported from conflict and war zones, including Iraq. In 2007, he received the Grimme-Online-Award as author of the Tagesschau-Blog.
Born in 1975 close to then-Karl-Marx-City (GDR, today Chemnitz), textile artist Jan Bejšovec lets the fabric tell its own history and creates new ones, too. Either appliqued, embroiedered, on a stretcher or as wrapped around historic monuments in the urban landscape – the textiles' authentic character specifically reach the viewers.
Soldiers are goose-stepping over an image, representational buildings that have fallen victim to history are re-emering, and a Soviet soldier seizes the German Federal Chancellery. Besides provocating with original textile remnants of the past, the artist shows another side, too: elaborately embroidered portraits surprise with photographic accuracy, and a two-metre embroidered dancer is hovering in dramatic pose.
With his textile installations in the public space, Bejšovec does not put abstract elements in the urban landscape, but instead he is using historic monuments with their very own history, e.g. in his work "Friedenssäule" (peace column; see this wartist article). Bejšovec's works impressively proves that there are no creative limits to textile art.
"Konfliktstoff Deutschland" is the first exhibition on the premises of ARD-Hauptstadtstudio curated by Martin Bayer (wartist.org). It is tying in a previous and successful exhibition on the premises of of the Berlin-based political consultancy republik movida, as reported by wartist.
The artist will be present during the opening on 5 July and the ARD-Hauptstadtstudio's Open Day on 20 August 2011.
Jan Bejšovec: "Konfliktstoff Deutschland"
6 July – 27 August 2011 (daily with prior reservation)
Opening: 5 July 2011, 1900h (prior reservation necessary)
Side event on the occasion of the ARD-Hauptstadtstudio's Open Day on 20 August 2011
ARD-Hauptstadtstudio
Wilhelmstr. 67a
10117 Berlin
Germany
Tel.: +49-30 / 2288 1100
Fax: +49-30 / 2288 1109
Email kommunikation@ard-hauptstadtstudio.de
The studio of the German TV station ARD (regulated by public law) and their liaison offices in the capital Berlin. ↩
The German Konfliktstoff literally means "cause for conflict", but here, it refers to the textile material, too. ↩
Literally "Imperial City Palace", referring to its combination of the Nazi's Reichskanzlei, the Imperial City Palace of Berlin, and the GDR's "Palace of the Republic", all three historic buildings of Berlin that have been demolished. ↩