Wartist presents: Group Show "Turning Point" on 10 years of 9/11 at ARD-Hauptstadtstudio, Berlin
We are proud to present the group show "Zeitenwende" (turning point) on the premises of the both centrally located and well-visited ARD-Hauptstadtstudio on 1 September 2011. 12 artists show their positions on the 10th anniversary of the terrorist attacks of 9/11 and their ongoing aftermath: more than 50 works include light, video and textile installations, photography, watercolours and paintings. The exhibition is curated by Martin Bayer (wartist.org) and will be opened on 1 September 2011 by Head of ARD-Hauptstadtstudio Ulrich Deppendorf. "Zeitenwende" is a cooperation with Deutsche Atlantische Gesellschaft (German Atlantic Association).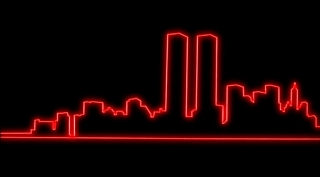 Ten years have passed since those terrorist attacks of 9/11, and everyone can remember the moment when the first news about it arrived. The world has changed within the following decade: international terrorism – already presumed dead by many experts – reappeared. One of the results was NATO declaring collective defence action according to Art. 5 – ten years later, together with other armed forces, the German Bundeswehr is fighting a War in Afghanistan that is becoming increasingly unpopular.
The group show "Zeitenwende" addresses the global importance of the 9/11 attacks and its results. The 12 contributing artists are as different as their individual approach and the materials used. Their works deal with both the historic events and our present. Five works have explicitly been made for the exhibition.
The group show will be opened intentionally on 1 September 2011, on the anniversary of another turning point: 72 years ago, Nazi Germany attacked its neighbour Poland. More than 50 million people died in the Second World War, millions of others were maimed, mutilated or became expelled from their homelands; all of the survivors have been traumatised. Even today, this global war does still shape the national sensitivities of many nations, not the least of Germany.
Do we experience another world war, even if the dimension of its casualties are still different? In which world are we living – and in which world do we want to live? "Zeitenwende" allows for reflection about the 9/11 attacks and its outcome, and not the least about war and violence in today's world.
Contributing artists:
On the occasion of the exhibition, a booklet will be published with welcoming messages by Ulrich Deppendorf, President of the Deutsche Atlantische Gesellschaft and Parliamentary Secretary of State (MoD) Christian Schmidt MdB, and Elizabeth Corwin, Cultural Attachée of the Embassy of the USA in Germany.
"Zeitenwende" is a cooperation project with Deutsche Atlantische Gesellschaft (German Atlantic Association); we would like to express our serious gratitude for their kind support.
All the artists will be present during the opening on 1 September 2011.
"Zeitenwende"
2 September – 21 October 2011 (daily with prior reservation)
Opening: 1 September 2011, 1900h (prior reservation necessary)
ARD-Hauptstadtstudio
Wilhelmstr. 67a
10117 Berlin
Germany
Tel.: +49-(0)30 / 2288 1100
Fax: +49-(0)30 / 2288 1109
Email kommunikation@ard-hauptstadtstudio.de
Share on Facebook
Categories:
Hinweise, Termine
9/11, Afghanistan, Ausstellungen, Bildende Kunst, Deutschland, Erinnerungskultur, Fotografie, Installation, Irak, USA, Vernissagen, Video