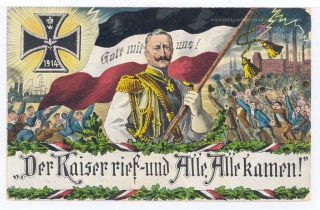 In 2015, remembering the
First World War
in Germany has been quite reduced – and it is unlikely to change up to 2018. Nevertheless, it is good to see that there are still some events to remember the pivotal war that took millions of lives one hundred years ago. On 12 February 2016,
"Der Kaiser rief – und Alle Alle kamen"
(the Emperor has called – and Really Everybody came) will be presented at
Erich Maria Remarque-Friedenszentrum
(Erich Maria Remarque Peace Centre) in Osnabrück, a mashup based on texts, images and sound sources.
Continue reading

""Der Kaiser rief – und Alle Alle kamen" (E.M.Remarque-Friedenszentrum Osnabrück)"