From 26 January until 28 March 2012, Galerie Anke Zeisler presents the exhibition "Der blaue Himmel" (the blue sky) with works by Achim Riethmann. His watercolours illustrate the book "Kleine Tragödien" (small tragedies, 2011) by the Vietnamese author Le Minh Khue. "The Blue Sky" is the title of one of the book's stories and refers to the view from a tank's open hatch.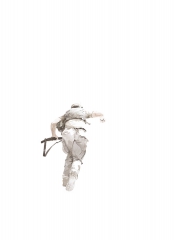 Le Minh Khue was born in 1949 in North Vietnam's province Thanh Hóa and lost her parents in the disturbances of the agrarian reform. In 1965, she volunteered for the army, later working as war correspondent. Since the end of the Vietnam War, she working as journalist and author. "Kleine Tragödien" (344 pages, 24,- €) has been published by Mitteldeutscher Verlag.
The works by Riethmann, born in 1979, elate by their reduction, leaving out much, and their precision. Opposing the white emptiness, the sujets' detailed tenderness is unfolding. They could, however, not be more remote to floral pleasure: tanks, soldiers, police in riot gear, crashed planes. The viewer is not forced to swallow a precast opinion about these images of media-related reality, but one is invited to complement the depicted events.
Achim Riethmann also took part in the Wartist group show "Zeitenwende" (turning point, 1 September – 23 October 2011) about ten years of 9/11 at ARD-Hauptstadtstudio.
Achim Riethmann: Der blaue Himmel
26 February until 28 March 2012
Open on Wednesdays (1500-1900h) and by appointment, but closed on 21 March
Opening: 25 February 2012, 1930h; the artist will be present
Reading "Kleine Tragödien" with the translator Günter Giesenfeld; the artist will be present
29 February 2012, 1930h
Entrance fee 5€, concessions 3€
Galerie Anke Zeisler
Gethsemanestraße 9
D-10437 Berlin
Berlin