From 11 January to 10 March, Sprechsaal in Berlin presents photos by Erik Schiemann. The artist, born in 1963, is dedicating himself to the people, the traces and atmospheres in locations such as Auschwitz, Ravensbrück, Buchenwald and Belzec. His pictures show former inmates and young people, damaged lives and wounded landscapes. A selection of some 30 pictures from a series of 60 black and white photos will be shown: portraits, thoughts and landscapes from the past seven years, supplemented with parts of Schiemann's work "c'était son monde" from 1995.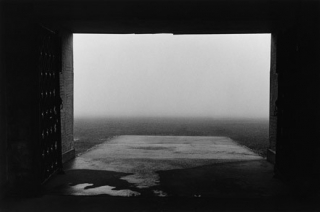 On 27 January 2013, the liberation of Auschwitz dates back 68 years. How do you continue to live on after surviving Auschwitz, Primo Levi asks in his book Die Untergegangenen und die Geretteten, and what happens to remembrance that, too, changes during the years? What happens to the traumatised? The terms trauma and grief have changed since 1945. What happens to memory that does not stop? The dead are the witnesses, but how is it possible to remember?
Erik Schiemann provides modern reminiscence work with his photos: shameful, complex and self-critical. The extensive complementary programme includes presentations, audio dramas, roundtables and interviews with historians and multi-disciplinary scientists. Das umfangreiche Begleitprogramm umfasst sowohl Vorträge, Hörspiele, Diskussionsrunden als auch Interviews mit Historikern/innen und transdisziplinären Wissenschaftlern/innen. Texts by Ruth Klüger, Primo Levi, Elie Wiesel, Jorge Semprun, Adolf Gawalewicz, Robert Antelme, and Tadeusz Borowski will be read, perpetrators such as Rudolf Höß, Adolf Eichmann and Kurt Gerstein will be addressed, and the works of Raul Hilberg, Saul Friedländer and Danuta Czech will be studies, supplemented by taped statements from Fritz Bauer, Filip Müller, Jan Karski, Theodor W. Adorno and Claude Lanzmann. Sprechsaal is looking forward to intense discussions.
Erik Schiemann: Der Tag kommt – KZ-Bilder
11 January – 10 March 2013, Th-Su 1400-2200h
Opening: 11 January 2013, 1900h
Sprechsaal
Marienstr. 26
D-10117 Berlin
Germany