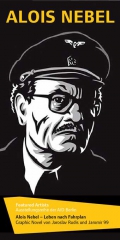 On 12 January 2013, the exhibition
"Alois Nebel – Graphic Novel by Jaroslav Rudiš and Jaromir 99"
will open on two parallel locations:
Akademie für Illustration und Design Berlin (AID Berlin)
and
Tschechisches Zentrum Berlin
(Czech Centre Berlin). Jaroslav Rudiš and Jaromír "Jaromir 99" Švejdík show the origination process of their successful three-volume
graphic novel
about the life of train director
Alois Nebel
(2003-2005), that has been made into a
film
in 2011 by
Tomáš Luňák
(and was awarded the
European Film Award 2012
as best animated feature film.
"Alois Nebel"
addresses the issue of the
forced displacement of Sudeten-Germans from Czechoslovakia
after the end of the
Second World War
.
Jaromir 99 (* 1963) lives in Prague as comic artist, painter and musician. Jaroslav Rudiš (* 1972) works as author, screenwriter and playwright; he writes in Czech and German and lives in the Czech Republic and Germany.
Summer 1989. Alois Nebel, a lonely train dispatcher at Bílý Potok, a small railway station on the Czechoslovak border, lives a quiet life. As a small child, Alois has witnessed the dramatic expulsion of Germans after the World War II. Sometimes the fog rolls in and he hallucinates, seeing ghosts and shadows from the dark past of the region. One day, a silent stranger carrying an old photograph appears at the station. No one knows why he came to Bílý Potok, but his arrival propels Alois on the journey to resolve the long-forgotten memories that are haunting him.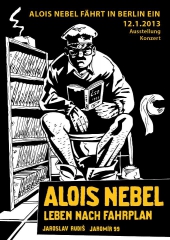 The exhibition by Literaturhaus Stuttgart has been supported by Robert Bosch Stiftung.
"Alois Nebel – Graphic Novel von Jaroslav Rudiš und Jaromir 99"
14 January until 22 / 28 February 2013 (see locations below)
Admission free
Opening: 12 January 2013 at both locations:
1800h AID Berlin: panel discussion with Jaroslav Rudiš and Jaromír 99
2000h Czech Centre Berlin: with Jaroslav Rudiš and live concert of PRIESSNITZ
Akademie für Illustration und Design Berlin (AID Berlin)
Ritterstraße 12-14, staircase 2
10969 Berlin
Germany
14 January until 22 February 2013, Mo-Fr 1400-1800h
Tschechischen Zentrum Berlin
Wilhelmstraße 44 / entrance Mohrenstraße
10117 Berlin
Germany
14 January until 28 February 2013, Mo-Th 1500–2000h