Two Years Later – Arab Spring Under Fire? (BICC Bonn)
From 21 February until 30 April 2013, Bonn International Center for Conversion (BICC) presents photos by Ahmed Khalifa. On the occasion of the opening, a panel discussion on "Two Years Later – Arab Spring Under Fire?"will be held. Working at BICC as a peace researcher, Khalifa was taking photos and documenting the Arab Spring and the Egyptian presidential elections.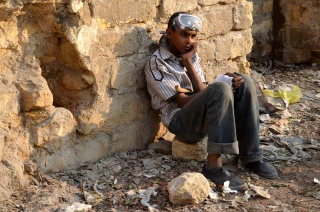 In January 2011, Khalifa – born in Egypt – knew that a historic change was taking place. He quit his university job and flew to Cairo on 26 January to take part in the political processes of change, but also to document them. "After the 'Day of Anger' (28 January), we nevertheless gained more security. We had learned to figure out the threat scenarios. We knew what the police wanted to aim. Therefore, we could deal with our fear much better and accept it", Khalifa said.
The panel discussion with Marc von Boemcken, Ahmed Khalifa, Salam Said and Jerry Sommer (moderated by Elke Grawert) addresses the region's militarisation and its effects on Egypt and Syria. The photo reportage "The Revolution Goes On" by Kristin Jankowski and Ahmed Khalifa can be found at the German online magazine zeitjung.de.
"Two Years Later – Arab Spring Under Fire?"
42 photographs by Ahmed Khalifa
22 February – 30 April 2013; Mo-Th 0900-1600h, Fr 0900-1500h
Opening and panel discussion: 21 February 2013, 1800-2100h
Please register until 19 February
Bonn International Center for Conversion
Pfarrer-Byns-Str. 1
53121 Bonn
Germany
Share on Facebook