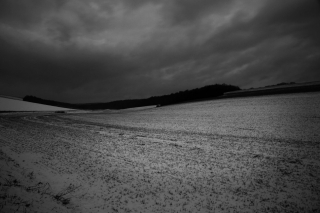 From 16 November 2017 to 30 March 2018,
Jacques Grison
presents his photos on the
battlefield of Verdun
from his series
"Devant Verdun"
in the eponymous exhibition in the gallery of the département's administration in Bar-le-Duc (France) präsentieren. Since decades, Grison, who was born in the region, approaches the former battlefield through his photos: His pictures show the wounds of war, still visible in a landscape that was shaped by the fighting one hundred years ago.
For the French and German cultures of commemoration, Verdun was and remains the pivotal battle of the First World War; for the former not the least due to a rotation system according to which most French soldiers served some time at Verdun. What remains of the battle, of the war? In the landscape, the scars of war are most visible, as all the soldiers have died by now.
The artist will be present at the opening on 16 November 2017, as well as on Saturday, 18 November 2017 from 1400h to 1730h.
Jacques Grison – Devant Verdun
16 November 2017 – 30 March 2018
Opening hours: Mo-Th 0900-1730h, Fr 0900-1700h, Sa/Su 1400-1730h
No charges
Opening: 16 November 2017, 1730h
Galerie de l'Hôtel du Département
Place Pierre-François Gossin
55000 Bar-Le-Duc
France