Film Premiere: We Want (U) to Know
On 8 December 2009 at 1900h, the documentary film "We Want (U) to Know" by Ella Pugliese will have its international premiere at Cinema Babylon Mitte in Berlin.1 The film, funded by the German development organisation Deutscher Entwicklungsdienst (German Development Service, DED), deals with remembering the crimes of the Khmer Rouge in Cambodia by the local population. The premiere evening will be hosted by Amnesty International.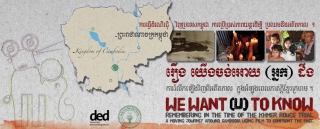 The Khmer Institute of Democracy and the International Center for Conciliation co-produced this movie that used an interesting, participatory approach: Cambodians of different backgrounds wrote and filmed this movie together. Remembering the crimes of the Khmer Rouge is central to this work: survivors from the provinces of Siem Reap, Takeo and Kratie talk about their traumata.
The film was made within the development programme Ziviler Friedensdienst (Civil Peace Service, ZFD) with the aim to support community-based forms of trauma coping and reconciliation in Cambodia. New ways to cope with one's own history should be found.
The Italian director Ella Pugliese and further guests will attend this evening:
Chum Mey, survivor of the torture centre S-21, today Tuol Sleng Genocide Museum2
Chhaya Hang, President of the Cambodian Human Rights Action Committee and Director of the Khmer Institute of Democracy
Laing Bolin, activist of the youth organisation Youth Resource Development Program
Leonie von Braun, Spokesperson of the Koordinationsgruppe gegen Straflosigkeit (Coordination Group against Impunity) of Amnesty International Berlin will moderate this evening
Programme:
1830h   Welcome, introduction of the guests
1900h   Film screening: We Want (U) to Know (90 mins, OV with Engl. subtitles)
2030h   Q & A with director and guests about the movie and the Khmer Rouge Tribunal
2130h   Reception at the cinema's lounge
Location:
Cinema Babylon Mitte, Rosa-Luxemburg-Str. 30, 10178 Berlin, Germany
Doors open at 1830h
Admission free!
At least, a preview had been shown on 7 May earlier this year in Phnom Penh. ↩
Out of the some 17,000 inhabitants of S-21, there were only 12 known survivors of which 4 are still alive today. ↩
Share on Facebook