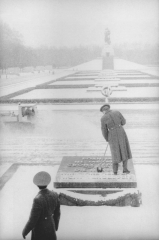 From 29 October 2010,
Jürgen Graetz
– who grew up in
East Germany
– will show a selection of his photos  in the premises of the Berlin-based political consultancy
republik movida GmbH
. The exhibition
"Erinnerungen"
 (Memories) is curated by Martin Bayer (Wartist.org), with a welcome address by
Lars Lindemann MdB (FDP)
.
Born in 1943 in Dagow (Brandenburg), Graetz attracted our attention with his almost magical photographs of the Soviet War Memorial in Berlin-Treptow (see also this Wartist article about the works by sculptor Yevgeny Vuchetich): Dissolved by fog, the memorial's monumentality takes a back seat and thus leaves room for mourning and memories. In the last stages of East Germany – therefore during the time of Glasnost and Perestroika – this "drop zone for wreaths" became a place of remembrance for soldiers and survivors.
Graetz is an excellent observer: in his classic photos, the image of man lies in the centre. Consistently he manages to condense both stories and history in these kept moments: a soldier of the GDR's border troops is sitting in front of his watch tower – but there are children playing around him, as the Inner German Border has already fallen, while he is still supposed to do his official duties.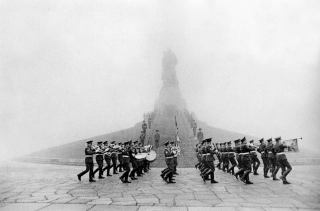 A Trabi car of the GDR's border guards patrols the border between the two German parts – but the absurd reality of this occasion is being enhanced, as when this picture was taken, the border did only exist legally, as the Berlin Wall was down already.
Besides photos of this transition period, many snapshots of life in East Germany can be seen in this exhibition.
After the exhibition "Textilkunst aus Konfliktstoff" with works by Jan Bejšovec, this is already the second cooperation between republik movida GmbH and Wartist. The political consultancy, closely located to the German House of Parliament and the Federal Chancellery and managed by Lars Rohwer and Jan Strecker, is thus playing its part in the close connection between politics, media, economy and culture.
Lars Lindemann MP (FDP) will deliver a welcoming adress. The artist will be present. Informations on the invitation and visiting the exhibition can be received via email.
Wartist presents:
Erinnerungen – Fotografien von Jürgen Graetz
republik movida GmbH
Luisenstr. 41
Courtyard, staircase C, 2nd floor
10117 Berlin
Germany
Phone +49-(0)30-526 825 410
Opening:
29 October 2010, 1800h
We kindly ask for the visitors' registration, as attendance is limited!