54th Biennale di Venzia: USA – Gloria (Allora & Calzadilla)
The Pavilion of the United States is – regardless of its Wartist-specific content – certainly one of the most compelling on the 54th Venice Biennale. Designed by the artist duo Allora & Calzadilla, "Gloria" consists of six sculptural installations, often including performance.  The artists skilfully discuss social aspects, from the worship of money in capitalism about dealing with war and remembrance to freedom.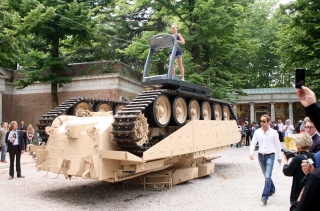 Since 1995, Jennifer Allora (born in 1974 in Philadelphia, USA) works together with Guillermo Calzadilla (born in 1971 in Havana, Cuba). Their works include sculptures, performances, photography, and sound and video installations.
"Gloria" fascinates the visitors already before entering the pavilion: part of the installation "Track & Field" is a Centurion main battle tank, lying on its back like a demobilised beetle. An exercise treadmill is installed on one of the tracks, and again and again, an American track and field athlete uses this treadmill while the clinking caterpillar tracks are moving. What a start with this allegory on (both military and athletic) contest and the desire to win, the absurdity of war, the glorification of technology and the detachment of our perception of war from the actual suffering!
In "Armed Freedom Lying on a Sunbed", a replica of the statue "Freedom Triumphant in War and Peace" that crowns the US Capitol lies on a sun lounger. Does she relax from all the decisions that have already been made below her? It is more a comment on the political situation, or has now the rather absurd cult of beauty taken possession of even this statue?
The two-part installation/performance "Body in Flight (Delta)" and "Body in Flight (American)" consists of wooden replicas of business class seats from those airlines. Almost sacral in their impression – one may think of the gain in status through frequent flyer programmes – , this furniture is used by female (American) and male (Delta) gymnasts in almost hauntingly beautiful performances: a cooperation with the US Olympic athlete David Durante and the dance choreographer Rebecca Davis (who works in conflict zones, too) is responsible for the successful mix of dance and sports. While the "American" part consists of fluent and graceful movements, the male performance of "Delta" represents a condensation of strength and power. A slight reminder that gender issues will remain to determine perceptions.
With "Algorithm", the artist duo has created a worthy altar for the ubiquitous worship of money: a functioning ATM is connected with a custom-made pipe organ to a more than six-meter-tall interactive sculpture. The organ begins to play as soon as the ATM is used. The composer Jonathan Bailey contributed to the scoring, ranging from eerie to melodic sounds.
In their video installation "Half Mast/Full Mast", Allora & Calzadilla again discuss war, its perception and its consequences, but also how the United States is dealing with Puerto Rico, where the artists live and work in San Juan. The videos, presented on top of each other, show different landscapes of the island of Vieques that was used almost exclusively by the US Navy until 2003. Defining element is a flagpole that appears to run through both scenes: on one or the other, a gymnast makes a human flag – and depending on the location, this flag is thus at full or half-mast, making either a symbol of triumph (and occupation) or of mourning and remembrance.
Gloria – the Spanish/Italian word for glory and also a woman's name – refers to fame and glory, be it with military, economic, religious, spiritual, or cultural references. Equally, the name can be related to the sometimes pompous and complacent cultural self-portraits of the national pavilions. With "Gloria", Allora & Calzadilla surely continue their path to further glory.
Share on Facebook