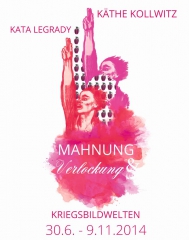 From 30 June until 9 November 2014,
Käthe-Kollwitz-Museum
in Berlin presents the exhibition
Warning and Temptation – The Pictorial Worlds of War of Käthe Kollwitz and Kata Legrady
. Two very different artists and their individual examination of war are contrasted with each other; on one hand, the pacifist works of
Käthe Kollwitz
that have not lost their impact and timelessness over many decades; and on the other hand, the direct and colourful works by
Kata Legrady
, born in 1974 in Hungary, whose contemporary approach addresses the propagandistic promises of war. In addition, the exhibition will present selected pupil's works that mainly deal with Käthe Kollwitz as mother and grandmother, who has lost her son Peter during the
First World War
, and her grandson Peter during the
Second World War
.
Continue reading

"Warning & Temptation – The Pictorial Worlds of War of Käthe Kollwitz and Kata Legrady (Berlin)"